We invite you to take a culinary journey through Argentina and savor the delicious flavors of our dishes. Inspired by Argentine culture and tradition, our dishes are prepared by our talented chefs using fresh and quality ingredients. We hope that you will feel comfortable with us and have an unforgettable experience in our restaurant. Let yourself be enchanted by our hospitality and the cozy atmosphere.
We believe that charcoal grilling is not only an original craft, but also offers a unique and incomparable aroma and taste experience.
Unser Grillmeister verwendet nur die besten Holzkohlesorten, um unsere Gerichte perfekt zu grillen und dabei den charakteristischen Rauchgeschmack zu erzeugen. Wir bieten eine Vielzahl von Gerichten, von saftigen Steaks über Fisch bis hin zu frischem Gemüse.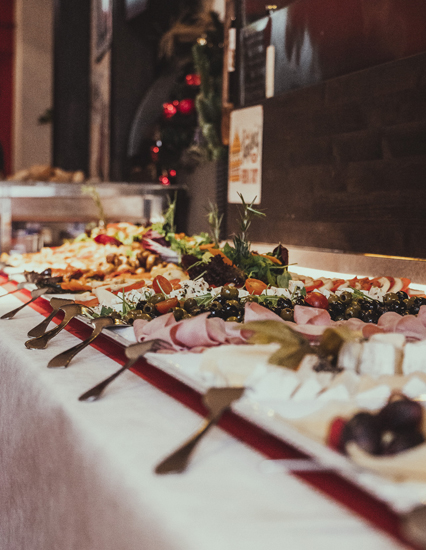 A large brunch buffet every Sunday from 11:00 a.m. to 2:00 p.m. with cold and warm dishes, desserts as well as coffee, tea and orange juice for €23.80 per person
We believe that food is an opportunity to celebrate together and that is why we have designed our restaurant to be suitable for both special occasions and a relaxed evening with friends and family.
Great location, cozy atmosphere with pleasant background music. Very nice and courteous service. Our meals tasted "TOP", of good quality and at a fair and reasonable price. We felt very comfortable and can recommend a visit and would love to visit again.
We (3 people) went there for brunch today and were all completely satisfied! The selection of cold and warm dishes was very good, and there was nothing to complain about in terms of taste and quality. The staff is very attentive, friendly and tries very hard to ensure that everything is available in sufficient quantity. We will definitely come back..
We had dinner with 4 people at Fuego del Sur last night. The food was just delicious and the service very courteous and extremely friendly. Later we were able to get to know the manager, who is also very accommodating to the guest. We will come back in any case.
WE ARE PLEASED ABOUT YOUR